General
WordPress Settings : General contains settings such as Site Title, Tagline, WordPress URL, Site URL, E-mail, Registration option, and many other general options for the WordPress site.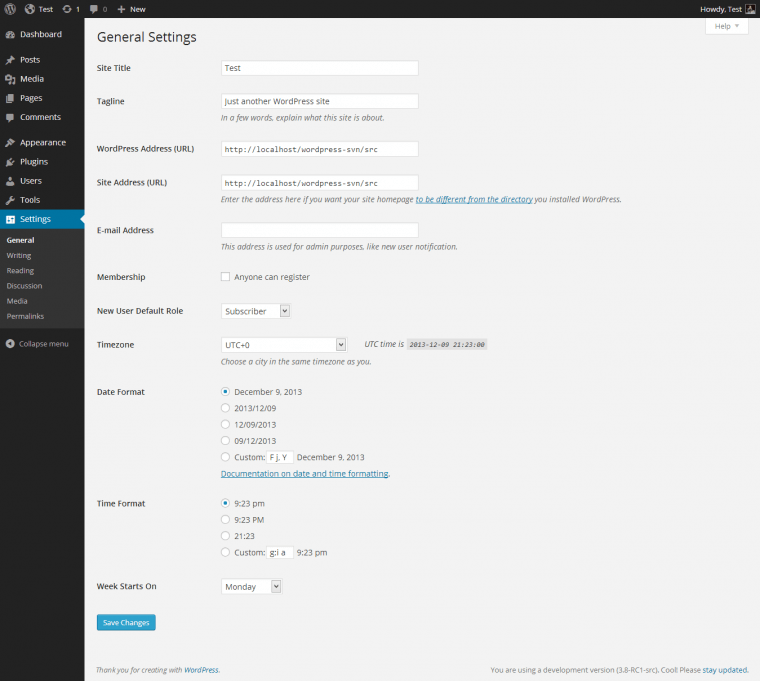 Site title
Enter the name of your site (or blog) here. Most themes will display this title, at the top of every page, and in the reader's browser title bar.
Tagline
In a few words, explain what your site is about. Your sites' slogan, or tagline, might be entered here. A tagline is a short phrase, or sentence, used to convey the essence of the site and is often funny or eye-catching.
Writing
Writing contains settings related to the post formatting and category options.
Reading
The reading contains settings related to Site Front Page, How many posts to show per page to readers, RSS items to be shown, whether full text or summary should be shown, and an option to discourage search engines from indexing the website.
Discussion
The discussion contains settings related to linking posts with other blogs that are referenced, comment settings, e-mail notifications for comments, and options for comment moderation.
Media
Media contains settings related to upload and management of images and other media within WordPress. Things like image sizes and cropping options can be managed here.
The first option on this page is for image sizes. When a user uploads an image, WordPress saves the original image and also creates three other copies for thumbnail, medium, and large image sizes. An administrator can adjust these sizes on this page. For example, the administrator can set the size of thumbnails to be 64×64 (64px width, 64-pixel height). WordPress will even crop the images for thumbnails to account for images that do not fit exactly into the dimensions defined here. For medium-sized images and large-sized images, a max-width and a max height can be defined so that when they are sized, they do not exceed the defined dimensions, whilst maintaining their respective aspect ratios.
The second section allows you to select where the uploaded media will be stored. Within this section, there is also an option that allows you to choose whether or not to organize uploads in the year and month-based folders. By default WordPress stores images in a year and month-based folder inside the uploads directory, like this: /wp-content/uploads/2013/04/. If you uncheck this box then WordPress will save all images in /wp-content/uploads/ directory.
Permalinks
Permalinks contain settings related to the URL structure of the website. These settings make it easier for users to find and remember URLs to specific posts. Using the correct structure will also help to better organize posts within the various categories. Options in this set allow you to control whether you want dates reflected in your URLs or just titles and categories or some combination of both.
Permalinks are the permanent URLs of your individual blog post or page on your WordPress site. Permalinks are also referred to as pretty links. By default, WordPress URLs use the query string format which looks something like this:
http://www.example.com/?p=233
However, by going to the Settings » Permalinks option page, you can modify the settings to change these query strings into human-readable strings. Example:
http://www.example.com/2012/10/wordpress-for-beginners/
There are various different formats that you can use. Day and name, mon and name, numeric, post name, and other. Any format that is not the default one is SEO-friendly. It just comes down to your preference after that.
WordPress Address (URL)
Enter the full URL of the directory containing your WordPress core application files (e.g., wp-config.php, wp-admin, wp-content, and wp-includes).
Site Address (URL)
Enter the address you want people to type in their browser to reach your WordPress site. This is the directory where WordPress's main index.php file is installed. The Site address (URL) is identical to the WordPress address (URL) (above) unless you are giving WordPress its own directory.
E-MAIL ADDRESS
Enter the e-mail address to which you want WordPress to send messages regarding the administration and maintenance of your WordPress site.
Membership
Anyone can register – Check this checkbox if you want anyone to be able to register an account on your site.
New User Default Role
This pull-down box allows you to select the default Role that is assigned to new users. This Default Role will be assigned to newly registered members or users added via the Administration > Users > Users Screen. Valid choices are Administrator, Editor, Author, Contributor, or Subscriber.
Timezone
From the pulldown box, choose a city in the same timezone as you. If you can't identify a city in your timezone, select one of the Etc GMT settings that represent the number of hours by which your time differs from Greenwich Mean Time. Click the Save Changes button and the UTC time and "Local time" will display to confirm the correct Timezone was selected.
Date Format
The format in which to display dates on your site. The Date Format setting is intended to be used by theme designers in displaying dates on your site, but does not control how the date is displayed in the Administrative Screens (e.g. Manage Posts).
Time Format
The format in which to display times on your site. The Time Format setting is intended to be used by theme designers in displaying time on your site but does not control how the time is displayed in the Administrative Screens (e.g. Write Post edit of timestamp).
Week Starts On
Select your preferred start date for WordPress calendars from the drop-down box. Monday is the default setting for this drop-down, meaning a monthly calendar will show Monday in the first column.
Conclusion: WordPress Config File and WordPress Setting ( From Admin Dashboard) These Two Parts are the actual heart and soul of the WordPress-based website or Blog. A little Knowledge of PHP will be an added advantage to solve any issues related to your website.
Hope these two Articles help you.
Happy blogging 🙂